Josh Harris came back to New York in April. He lives in a warehouse a few blocks from the Williamsburg waterfront. Frayed wires curl out from the brick façade and the front door is speckled with graffiti and stickers. A pair of sneakers tied together by the laces hang over the entrance like somber mistletoe. His buzzer doesn't unlock the door, so he has to lumber down several flights of stairs to fetch guests.
When he busted open the heavy front door on a recent afternoon, Harris was dressed in paint-spattered khakis, worn Adidas sneakers and an unbuttoned red-and-gray flannel shirt with a long-john shirt underneath; there was a cigar in his teeth.
He was beaming. "Hey there! Welcome!" he said, holding the door open. He hopped over a pile of pizza menus before climbing the stairs, two at a time at first, up to the fifth floor. About halfway up, he slowed down to one step at a time.
Harris said he has his "New York street legs." "It took me about six weeks to get them," he said. But he's not sure how long they will last.
Harris looks younger than his 50 years. A hint of gray tips his sideburns, but he is healthy and clean-shaven. His eyes are bright blue and he makes intense eye contact at nearly all times. When he starts talking about "The Wired City," his next project, he leans forward and one of his legs jiggles uncontrollably, as if his body can't contain his anticipation for the words he's about to say.
New York is where Harris made his fortune in the mid-1990s and from which he had, for a time, exiled himself. During the dot-com boom years in the city, Harris was proclaimed the "Warhol of the Web." His work was as much an outgrowth of the art world's fascination with (and lack of real understanding of) cyberpunk sensibilities as it was about any of the hardcore big business Silicon Valley has made out of the web. But he was among the first in that fresh-from-California crop of serious internet entrepreneurs.
Harris made his fortune, long since lost, by starting two pioneering companies in New York: the first web research firm, Jupiter Communications, in 1986; and Pseudo, the first producer of television shows for the Internet, in 1993.
"I was kind of running a weird night club," Harris said about Pseudo, which had online channels dedicated to all kinds of niche subjects and characters. "On Wednesdays we had 88HipHop , where major rap artists came through. Thursday was electronica night. Monday was poetry night. You know, this is the happy land."
Jupiter went public in 1998, and Pseudo, aiming to replicate NBC, CBS and ABC for the Web, garnered millions from investors including Intel, Tribune Company, and capital firm Prospect Street Ventures. At one point, Harris' fortune rose to $80 million.
Meanwhile, with his extravagant parties and curious pranks, Harris became an oddball character of a downtown New York art and technology scene, caught up in a pre-Sept. 11th rapture.
Harris used his millions to explore the online-interactive space, before there was much of a market for it. Through social-experiment stunts, he laid down axioms that still drive the business today. He eventually went broke proving his convictions about what the future of technology would look and feel like.
It's not hard to see how that happened. For his masterpiece, a 1999 "ultimate party" called "Quiet," Harris asked 100 people to live in an underground bunker on Broadway for 30 days. He mounted cameras everywhere—in beds, in showers, in a shooting range, banquet hall and theater—and broadcasted everyone's actions to everyone else on monitors all over the space and on one of Pseudo's online channels. It was, at first, one big party full of hippies and artists having sex together, doing drugs together and playing games together, on camera. The situation inevitably devolved into a nightmarish panopticon—fights broke out and guests' sanity slowly erroded. A New York police raid shut down the "Quiet" bunker on Jan. 1, 2000.
Harris said "Quiet" demonstrated that people didn't just want 15 minutes of fame, as Warhol said. Everyone wants to be famous all the time—but they have to overshare and sacrifice their privacy to get it. This is where technology was going; and it's where "we" wanted it to go, Harris said at the time. And while we may not have consciously gone as far as Harris did, we are right where he expected us to be. Aren't we?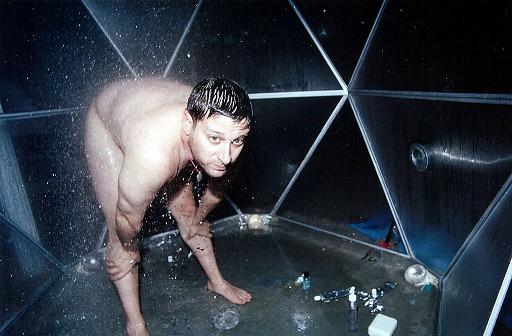 AFTER THE DOTCOM CRASH AND THE COLLAPSE OF PSEUDO, Harris quickly hatched his next surveillance-art project. He began dating one of his Pseudo.com employees, Tanya Corrin and, in September 2000, he rigged their Soho loft with 32 cameras and vowed to broadcast their relationship on WeLiveInPublic.com for 100 days. The couple conducted live chats with online viewers, who sometimes baited fights and took sides as the couple's relationship deteriorated. As their bickering escaladed, Corrin asked Harris to sleep on the couch.
"That wasn't Tanya that was her people," Harris told me about her request. "I couldn't understand it. It was way out of her character. But what happened was, she traded a little piece of her personality for their strength."
Harris insisted that Tanya was "absolutely gorgeous," but ultimately she was an actress playing a role, like Jim Carrey's wife in The Truman Show. She was just "the perfect fake girlfriend."
"Were we emotionally entangled? Yes," he said. But "the idea was to live in public with a fake girlfriend because with a real girlfriend it would not have been nearly as interesting."
Within a month of "We Live In Public," the couple's relationship was "damaged beyond repair," Harris said. Harris had a breakdown, and he retreated to an apple farm in Columbia County, New York.
"I don't have hard feelings at all," Harris said about Corrin. "The real problem is I have no feelings. It was just a piece of work."
He sold the farm in 2006 and later returned to the web with a riff on YouTube, a "social television network" called Operator 11. But within a year he had abandoned that, and disappeared to Ethiopia, where he became the chief executive of the African Entertainment Network.
Harris returned to the States in 2009, arriving at Sundance for the debut of a documentary on his life, titled We Live In Public. The film, directed by a friend who had been filming him for a decade, debuted with much fanfare.
For the past year, Harris has been trying to use that small spotlight to his advantage. He has been pitching around an idea he calls "The Wired City," a version 2.0 of "Quiet" that will live on television and people's homes.
A group of people will live on a television set where everything is wired—from bathrooms to their sleeping quarters to a central command-type station—taking measurements at all times. "Even when they're sleeping, we're making money off of them," he said.
Brands will be able to sponsor every inch of the set, from the meals to the blankets on the beds. Ultimately, your own home will follow suit. Advertisers like Crest will be "micro-monitoring" their consumers, Harris said. Crest could, say, set up a high-tech station in your bathroom that will include a video monitor and a hygiene monitor, which will record how often you brush your teeth, whether you're flossing, and whether you need a new dentist appointment. Brands will all become media entities, running their own media channels and studios.
"Crest studios are gonna know what's going on in your mouth," Harris said. "If your child misses a brush, the Crest social services will let you know and you'll get a demerit of some sort because they didn't take care of their mouth."
You'll also be able to share these video clips and data of your daily life with friends, and get points based on your influence. Rewards might include a celebrity joining you in the bathroom to brush your teeth with you via video chat.
"You could get Johnny Depp in there with you for 10 minutes," Harris said, as an example.
"The Wired City" will "elevate all these micro-dayparts in your life into engaging experiences," he said. "The only difference between my massive multi-player game and let's say "World of Warcraft?" In my world, I'm literally playing with your life for real."
Harris pursues this dream even though he isn't sure it's a good thing for people. Being under constant surveillance with any number of viewers and advertisers involved in your every move, "it fractures the psyche," Harris said.
"And so you cease to become an individual and you join the Borg," he said, referring to the Star Trek civilization that is controlled by a single, central brain. "It's really a change in the evolutionary cycle of existence as we know it. We're not humans as we know it going forward."
For Harris, living through that inevitable reality is the important thing. Whether his project hastens it or is responsible for it is beside the point, and always has been.
"That's what my art is all about," he said.
He paused when I looked up at him after finishing writing down his quotes. "You don't get guys like me every day of the week, huh?" he said, before leaning back in his chair and putting his cigar back into his mouth.
HARRIS SAID HE CAME TO NEW YORK PARTIALLY because he had already canvassed his business plan on the West Coast.
"There was some heat but it just didn't happen," he said, about landing a deal in Los Angeles.
Harris believes that if he can get "The Wired City" off the ground, he can spark a new, profitable industry in New York.
"I'm a talented businessman," he said. "I'm confident that once it starts, it's a foundation for a long-term industrial mainstay of New York City. I've proven, all the way back in the beginning, that I'm capable."
"I'm just, you know, I'm not exactly greeted with open arms," he said.