On the first night of lectures by recipients of the 2011 Architectural League Emerging Voices award, nobody was really talking about building new buildings.
Principals of one firm, Interboro Partners, which is based in Brooklyn, presented several projects, one of which was a plan to find other uses for an abandoned mall until it could be redeveloped, and the other, resulting from a research project on the city of Detroit, explored the concept of "blots," a term they assigned to multi-tract plots of land cobbled together by residents who acquired the land that lots of neighbors left behind.
Lateral Office, of Toronto, presented an inexpensive, economically revitalizing, environmentally redeeming plan for Southern California's ecologically unfortunate Salton Sea; they also spoke about the research collective they co-founded to probe "the spatial byproducts of contemporary resource logistics," which in a broad interpretation translates as infrastructure.
Technology has a lot to do with what's happening in architecture: what can be done by architects efficiently, and what problems—engineering problems, environmental problems, infrastructural problems—have come up for cities that architecture might have practical solutions for.
Much of the city-building taking place these days is subject to and generated from a new ethos about what belongs in the civic sphere. Significant building of architectural importance is dominated by the idea of public-private partnerships, and has arguably had its foremost expression in the U.S. in the mayoralty of Michael Bloomberg and his deputies, who are rewriting the rules of how the city functions, and how it's built.
These problems and technologies, though, aren't just creating jobs for the new generation of architects—they are shaping the aesthetic these architects are bringing forward. The city of the future will look very different, and these are the people whose vision will shape it.
So now that the jobs are coming back—and they are—the question is, is this generation ready to build? And what will the city look like when they're done?
I interviewed principals from seven of the eight firms getting this Emerging Voices award, to get a sense of who these people are and what they think; Marcelo Spina, from P-A-T-T-E-R-N-S, was in Europe and despite enormous efforts on his part we were never able to speak.
WE WERE ALL SITTING IN THE WHITE BASEMENT OF THE NEW MUSEUM, in a white-walled lecture space with blond-wood floors and cream-colored plastic chairs and pulled-back grey curtains that matched the color of the podium on the left side of the stage, for the first installment of the series that will allow eight firms to show their work in several nights of lectures. Reflecting the stages of development of most architectural firms, the Emerging Voices competition follows the League's well-known award to very new practices, the Architectural League Prize, which was until relatively recently known as the Young Architects forum (several of the eight, including both Interboro and Lateral Office, have won that competition in previous years). It's supposed to go to young firms with a "significant body of realized work."
"Realized," broadly interpreted, would translate as "actually built."
Jamie Maslyn Larson, a pleasant-looking new member of the selection committee wearing a striped blouse, read from prepared marks after a very brief tribute to the sponsors from the League's program director, Anne Rieselbach.
Larson admired these first two firms in particular, she said, from her perspective as a landscape architect, for studying the "overlap of systems, of geography, nature and the complexity of really, sort of, seeking the right voice and vision for those systems."
She also said: "I think what I was drawn to most was that they seem to pick apart and grapple with, issues for which there appears to be no clear client. Messy, complicated problems that they just know should be tackled by someone, but no one has asked them to do."
The prizewinners belong to a generation of architects that has inherited a wariness from their baby-boomer antecedents who, themselves, watched several boom and bust cycles go by, while the generation before them—the Gehrys (pictured left) and the Meiers and the Fosters—seemed to win by default whatever small number of major commissions there were. So they did what non-building architects do: they taught, and thought, and wrote, and passed time broadening the purpose and meaning of architecture to epic and sometimes not entirely realistic proportions, while what was going up was becoming increasingly big and increasingly expensive and therefore increasingly distant and boring. Risk-averse clients attracted to established firms are not commissioning or encouraging risky architecture, after all. Architecture got old.
Meanwhile the less expensive, less ambitious jobs became increasingly mundane. It became possible, in the last decade, to make such enormous amounts of money from middling building jobs—most notoriously condominiums, but also hotels and office buildings and that sort of thing—that quantity became much more popular than quality. The sort of "masstige" feel that dominates places like Whole Foods and the home-furnishing chainstores and waterfront condominium buildings in Seattle alike.
This is an old story, but it's worth considering the relationship between the old story and the youngest architects, who watched that particularly feverish boom from classrooms or very young practices; architecture, as a profession, tends old, such that professionals in their mid-to-late 30s are still "emerging," per the Architectural League. (More than one architect I spoke to for this piece referred to the timeline of a career in the field as inverse to that of professional sports.)
The large number of architects in the Emerging Voices generation, even if they had wished to, did not have enough experience to be able to guarantee quantity in a short time to be any significant contributor to what was being built before 2008.
And for the most part, they didn't want to; the lessons of that period in building were evident before it ended, and once the field contracted (jobs in architecture in New York City reportedly, between roughly July 2008 and March 2009 fell by 13 percent, and that's one of many grim statistics) the ones that were more excited about quantity, about profit, left. Generally speaking, the ones that remain active in the field are more idealistic—they would have to be—and thinking on a much smaller, more thoughtful, more altruistic scale. It is the teachers and the writers and the thinkers that are still here and available to build.
Most of the architects that today are awarded the most expensive, highest-profile commissions in North America were born in the 1930s. That includes Michael Graves, Richard Meier, Norman Foster, Richard Rogers, Robert A.M. Stern, and Renzo Piano. Frank Gehry was born in 1929, I.M. Pei in 1917, and David Childs in 1941. With the exception of Childs, whose firm is the august Skidmore, Owings and Merrill, the firm names are beside the point; when Norman Foster builds something, it's said that Norman Foster built it.
Buildings will still need to be built when these men no longer wish to or no longer can take commissions. (In Philip Johnson's case, he was drawing things on napkins that became renderings at his firm, like a Jean Nouvel building planned for the Meatpacking District, almost to the day of his death; in some ways it was hard to watch.)
The 1930s gang grew up during World War II, and, roughly, went to school in the 1950s and started practicing in the late 1960s and 70s. A group commonly referred to as The New York 5—Peter Eisenman, Michael Graves, Charles Gwathmey (right), Richard Meier and John Hejduk—famously exhibited at the Museum of Modern Art in 1967 as the "next generation" of architects, and the book Five Architects was published in 1972. There has really been no "next generation" contemplated on such a scale since.
Assuming 20 to 25 years between a generation, who are the architects born in the 50s, educated in the 70s and practicing in the 90s? There's Steven Holl, Tod Williams, Billie Tsien. There are of course Rem Koolhaas and Zaha Hadid and Bernard Tschumi, to name a few. Most of them are just now getting out of paper and building. They've become famous through books, lectures and ideas more than anything else, frequently ideas that are broad enough (as in Koolhaas) to take in much larger themes than what you'd traditionally call "architecture."
It's a lost generation, if the built environment is to be the measure. Recessions in the early 80s and early 90s meant there were fewer opportunities for baby boomer architects during the years in which they could have been gaining experience in larger projects and building a name for themselves. So much so that in the last 15 years or so, since the now-old men were still active, it has been much easier and perhaps advantageous to public relations for developers and other clients to look to those now-old men for major projects, as opposed to actively looking for younger talent and taking a risk. At least until Atlantic Yards, Frank Gehry was a pretty good, and frequent, bet.
Alex Miller, a principal at Taylor and Miller, said it's more or less understandable. "It's safer, it's safer. I mean I think it's just like a number of other industries, you're going with something—especially when the money's tight, especially when every bit of marketing counts, it just makes sense, that you would defer to that and say, 'OK, I'm going to maximize that part of this marketing effort; I'm going to maximize this project. And, you know, I can see why they're doing it."
Which leaves the next generation in an odd spot; there's something of a vacuum, but they don't have enough experience to fill it. Most of the Emerging Voices firms were founded roughly 10 years ago and their principals are mostly under, say, 45. They're still a way off from being offered truly large projects, as a rule. The gerund "emerging" would seem to be a permanent state of affairs for this generation; always emerging, never emerged.
The Emerging Voices people talk about lack of opportunity, which in some sense is the burden of many professions, but the echo of the moment could last a long time. Because of the economy, the number of jobs in architecture has plummeted. When that happens, people leave the profession, which is what has happened before and part of the reason for the disparity between generations.
"I'm going to turn 34 in June," Miller said. "My partner's a few years older, but the way that I always explain it to people, at least the recent recession specifically: where Jeff and I saw ourselves in—I don't know, five or six years—the firms that we looked at, that we projected where we'd be or thought we might be. If those firms had work that was developer-centric those were the ones that we felt got tagged the hardest. Because you know that work dried up immediately, right? And so, there were a lot of those firms, you know I won't call them out by name, but there were a lot of firms that were younger, older than us, but younger, that were, you know, in academia, that we had either had as professors or whatever. And they had gone from five-person firms up to 25-person firms and then they hit the reset button back down to five–, seven–, ten-person firms."
Ruy has been a professor for almost 15 years, and talks like one (albeit an especially good one), though he's an Emerging Voice who's starting to get commissions.
"One of the things I thought was a great irony of contemporary work was [that] a lot of the curvilinear and spectacular buildings that have been built recently comes out a research that really can be located in the late '60s," he said. "And a lot of it came out of, kind of, a challenge of modernism, and it had a real counterculture or leftist bent to it. And so it's very ironic, actually, relative to that history, that the formal research that came out of that counterculture ended up becoming the calling card of great capitalist projects."
A number of those great capitalist projects have been delayed, or scaled-down, or canceled, enough to seriously affect the profession, at least for now. That may mean a temporary lag in big, expensive projects (the financial sector seems to being doing just fine recently), a relatively long-term shift towards smaller projects, or a change in the culture entirely. A number of the architects I spoke to for this piece seemed sort of relieved; among other things, there's some sense that there has been enough of a sea change that there is the chance to revise the profession. The inflation of architecture, a function of the inflation of commercial building, that created that 1967 MoMA show, is not likely to happen again anywhere in the near future, and that gives room for architecture to become its best, as defined by the Emerging Voices.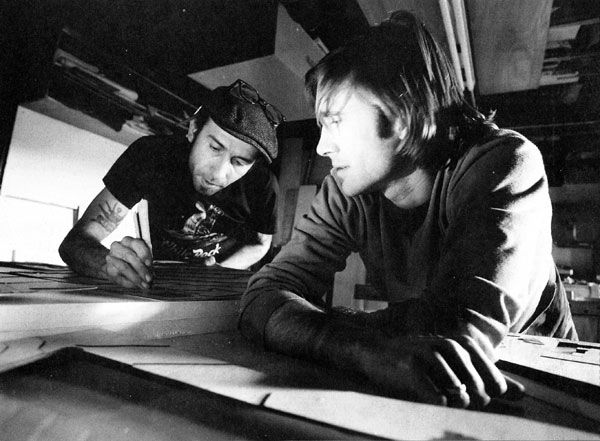 "WHAT IT MEANS TO BE AN ARCHITECT TODAY VERSUS 30 years ago is different," Benjamin Ball, pictured left with his partner Gaston Nogues, said over the phone from the Ball-Nogues office in Los Angeles. "The role is more. We do a very diverse set of things that wouldn't have. You can be called an architect, and you're working completely within the virtual domain; you can be called an architect working within the domain of public art; you can be called an architect and you can be doing, you know, Habitat for Humanity; you can be called an architect and you're making icons for the most powerful institutions in the world. You can be doing research on, like, pervasive sensing.
"It's just, like, all over the map, and so in some ways I think it might be kind of a problem. It really almost kind of dilutes the … We don't know what it means to be an architect anymore. It means all these different things."
I asked him how it came to be that a job that was once to, essentially, make buildings, had spread so wide.
"I think it's about the training," Ball said. "What we think of as space, and as the environment, has expanded quite a bit. And the people that are interested in architecture or design, in school they fold these new interests into the work, and then it becomes kind of part of the definition of what an architect is. And, you know, I just think the notion of what we think of as space—what a architect can do—it just has blown up; It's huge now. It's much bigger."
For a sense of what's different about the Emerging Voices firms, compared to the New York 5, you only need to look at their names.